The Art of Devotion –
a new workshop in English!

An introductory workshop for couples
about Love, Sex, Intimacy, Communication & Tantra



We are now presenting our most popular workshop for couples, in English – The Art of Devotion!

Gudomlig Njutning is the backbone of our teaching, with 90 (!) introductory workshops for couples since 2004, and more than a 1,000 participants. But until now, we have only presented it in Swedish.
But finally, after a series of requests, we are now presenting it in English, under the name The Art of Devotion.

The Art of Devotion offers you and your partner an opportunity to delve into your relationship, a playful rediscovery of what it was that once made you fall in love with each other, as well as an opening to do just that once again. You are given a chance to experience an intense and particularly pleasurable weekend, focusing on love, relationship, communication and sex, with theory, practical exercises and reflective talks.

The Art of Devotion is a weekend workshop for couples, focusing on Love, Sex, Intimacy, Tantra, Communication, Play & Pleasure. It's a perfect weekend activity for couples who want to learn more about coming closer with each other, expand the relationship on all levels, and leave all other responsibilities and activities for a couple of days, just focusing on the love you have for each other.
Art of Devotion is a playful and inspiring way to have more love, sex, freedom, presence, pleasure, life, desire, lust, playfulness and joy in your life. We offer you and your partner to find a playful way to delve into your relationship, to make a new discovery of what made you fall in love with each other from the start, and to find new reasons to fall in love again.
This workshop is also about sexual empowerment and bodily autonomy. Once you have gained power over your sex life, you will soon find that this power spreads to everything else in your life. Good sex is also very healthy – on all levels. For physical health, emotional well being, mental stability and spiritual balance – and absolutely nothing to be ashamed of.
Your body is an amazing tool for limitless pleasure – for yourself as well as for others around you. Love your body, and make it a gift of love – to yourself and your partner.

The following subjects will be parts of the workshop:
Self image and partner image – how to love yourself fully, body and soul, to be able to both give and recieve appreciation and love.
Communication – verbal and non-verbal.
Love & relationship dynamics – how do I make my relationship function better – how can I make love flow in our relationship?
Boundries and consent – how can I find out, and be more clear about what I really want, and what I don't want, to say yes when I want to say yes, and no when I want to say now, and communicate what I really want?
Touch – different techniques and intentions, erotic massage, erogenous zones and other forms of touch.
Lust – how to strenghten desire, remove obstacles and solve problems.
Liberation from shame – freeing yourself from shame around your body, and the choice of just enjoying it.
Change of attitude – how to revolutionize your love life and sex life by changing your perspective.
Sensuality – giving and recieving with love, generosity and openness. Discover new ways to enjoy, understand that sex is so infinitely much more than only penetration, orgasm and ejaculation!
The 9 languages of Love – learn many more expressions of love, and how to understand others expressions of love as well. Be better att telling the people you love, that you do love, respect and acknowledge them.
Erotic anatomy and technique – how does the body really function? Genitals, G-spot, P-spot, erogenous zones, orgasm techniques, sensitivity of skin.
Orgasm – how to get stronger, longer and deeper orgasms.
Sacred Magic Sex & Tantra – sex and spirituality, healing sex, sex magic and erotic rituals. Tantric breathing, energy flow in the body, being in tune with your partner, in breathing and touch.

"Probably the best Love Workshop for couples, in Sweden"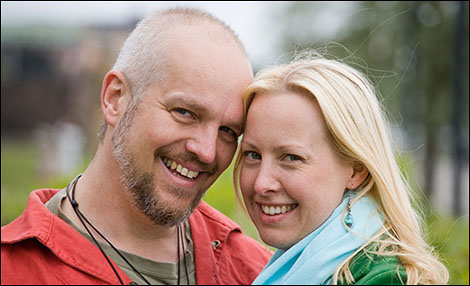 Teachers:

Calle & Jennie Rehbinder – pioneers, visionaries, leading Swedish sex educators and experts in love and intimacy – devoted to spreading spiritual and sexual inspiration.
Artists, photographers, writers, ceremony leaders and tantra teachers – the idea is to integrate. We have explored sexuality, spirituality and art together, creating more than 300 love & sex workshops since 2003, as well as erotic photo exhibits, a book with erotic short stories, several websites and blogs, including the most popular "Cirkus Eros".
Combining ancient Indian Tantra and Western Shamanism with modern science, psychology, theatre exercises, ecstatic ceremonies, wild play, sensual touch, humour, total madness and common sense. Great tools for changing your life into something better.
Our teaching is based on a vision of Love. We want to share this vision with you – if you want to expand your consciousness, heighten the quality of your life, maximize your pleasure and happiness, and deepen your spirituality. No dogma, no preaching – just pragmatic, eclectic, practical application of wisdom from many sources. Whatever works, we use and teach.
Read more about Calle & Jennie on the workshop website! »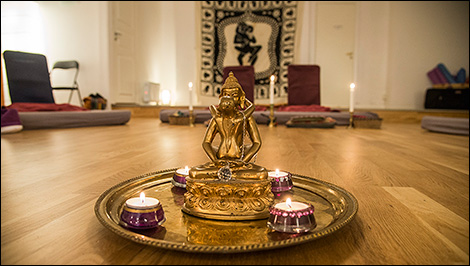 Workshop date:
March 16 – 18, 2018  (room for more participants)
More information:
Q&A about The Art of Devotion »
Responses from previous participants! (translated from Swedish) »
Register for The Art of Devotion! »

Response from previous participants:
(translated from Swedish)

"Hi Calle and Jennie!     
We want to give you some feedback after daring to attend your workshop last week.     
First of all we want to express our gratitude for your incredible enthusiasm, and your natural ability to create a warm and allowing athmosphere.     
The workshop was rich and varied, and we brought with is several new thoughts and insights, as well as methods. The breath exercises helps us to focus and create intimacy.    
Compliments strengthen self esteem, the methods of touch and massage awaken sexual desire, but also safety, comfort and presence. Another very important insight was the fact that we – just like true artistis – do not have to wait for inspiration. Just get on with it! Inspiration comes when you get started.    
Greetings"
~ L&A, april 2014

....................................
"Hi,     
Thank you for a lovely workshop weekend with a lot of pleasure. We loved that you present the weekend like a "smorgasboard", where all participants are welcome to try whatever they want to try, and bring the favourites with them home.     
The 9 Languages of Love was very inspiring. We learnt a lot, many aspects of communication that we can recognize in everyday life, amongst friends and family, but also in the relationship, and in oneself.     
Playing "animals" was also a lot of fun, something we definitely will continue at home,     
Thank you for all the exercises, all the love, and hope we soon meet again!     
Greetings"
~ M&G, January 2016

....................................
Subscribe to our newsletter!
If you do not already subscribe to our newsletter – Cirkus Eros Love Letter – write your name and e-mail address here on Get A Newsletter, and then you will get them automatically.
If you only want newsletters in English, you can e-mail us directly, tell us your name, e-mail address, and that you specifically want only newsletters in English – then we will put you on a special list for that.
No spam – only inspiring information!
Contact: